Doug Reichert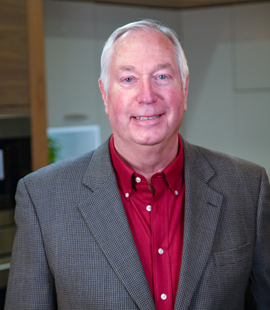 Doug Reichert
---
General Manager
Doug was hired to manage JM Kitchen and Bath Design in late 2016. A seasoned, professional salesman and manager, he had previously been working for Almo Distributing (the largest appliance distributor in the U.S.) constantly traveling the western United States. When presented the opportunity to take a step back from his "road warrior" duties, and instead focus on managing a successful business, Doug readily embraced the challenge.

Doug has also been a general manager at Discount Cabinets and Appliances (a subdivision of Thurston's), worked for the Maytag Company for 25 years, and spent six years at Bosch Siemens — all of which have provided him an impressive background in both selling and managing.

When Doug joined JM Kitchen and Bath Design, the company was coming off its best year in history, and he was charged with keeping the momentum going. Doug's recipe for success is simple: employ the best employees and professional designers available, forge quality relationships with suppliers and trade partners, and treat customers fairly.

He claims his design team is the number one reason for JM's success. "We have professional designers who are very experienced and very good at project management," he says. "We screen them closely and have assembled one of the top designer teams on the front range. Whereas customers shopping at a big box store are typically going to find newer, less-experienced designers who are working for an hourly paycheck."

Many of Doug's daily duties revolve around assisting and coaching JM's employees and design teams to be successful. But he also believes in building and maintaining solid relationships with trade partners, suppliers, and vendors, so he allocates plenty of time for them, as well as regular interaction with clients.

Doug has kept the company progressing forward through principles of the Golden Rule. "The company itself has been in business for 46 years, and you don't stay in business that long without treating your customer honestly and fairly," Doug says. "Our mission statement is to always be fair to employees, trade partners, and clients. As an employee or customer, how would you prefer to be treated? That's how I approach it."

Doug grew up in Minnesota and his early career took him around the country, ultimately ending up in Denver in 1989. He loves Denver as a sports town, being an avid baseball fan and Rockies season ticket holder. Doug also enjoys being outdoors and has a passion for hunting, fishing, hiking, camping, and four-wheeling.

Doug and his wife, Linda, have been married 46 years. They have two happily married children living nearby, allowing them to spend a lot of time together with family. The Reichert's recently purchased a 10-acre mountain property in Fairplay and built a log cabin on their land. Their cabin will serve as a weekend vacation home and ultimately a retirement home. Family is of paramount importance to Doug & Linda.