Nancy Hastings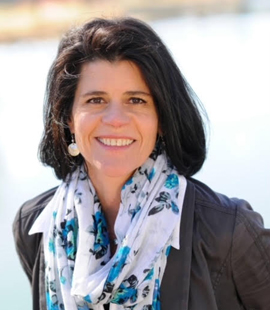 Nancy joined JM Kitchen and Bath Design in 2018 following a diverse career that saw her alternate through a 10-year stretch of interior design work followed by a 10-year career in real estate. She received her undergraduate degree in Business/Economics, but later went to Interior Design school and also studied architecture – sparking her love for the industry. Nancy spent 10 years as a designer for Denton Designs, before shifting gears to try her hand in a successful real estate career. As a side business and hobby, Nancy also regularly bought, remodeled, and sold homes, satisfying her love for interior design in every home-flipping project.

"My daughter says that my superpower is to see through walls," Nancy says. "I can walk through a space and see the end product in my head. That's the really fun part about it – I can see it all before it actually exists." She also attributes her success to the fact that she has been through so many renovations during her lifetime, that she can maintain a sense of humor throughout what can be a difficult process. Nancy knows the emotions that people go through when they're having their homes torn apart. "Because I've been through it in my own homes so many times, I can totally understand what they're going through. I have empathy, and if we can keep it light, and not get too bogged down in the process, it can be really fun."

"Worry is the rehearsal for failure", she adds, which is why she aims to put each client at ease during a project. Nancy takes on the burden of all project-related details and uses her many years of experience to mitigate issues as they arise to take away her clients' stresses and ensure a smooth project.

Nancy loves being a part of the JM Kitchen and Bath Design team because she's surrounded by fellow talented designers in a family atmosphere. She appreciates the fact that they can all share ideas and draw on each other's strengths and experiences to deliver the best possible service and end product for their clients.

Nancy moved from to Colorado from Cleveland, Ohio to attend Colorado College as an undergraduate in 1982 and recalls being stuck at Stapleton Airport while trying to get home for Christmas during the Blizzard of '82. While that experience was stressful, she did see how fast the weather could turn sunny again, make the snow disappear, and turn things green, which made her love for the area grow. Following her degree in
Business/Economics from C.C., she later attended the Art Institute of Colorado to study Interior Design and the University of Colorado at Denver for Architecture. She has lived in the Wash Park neighborhood since 1991 and has two teenage daughters, Allison and Gillian.

Nancy works tirelessly, but during her free time she enjoys running, biking, and skiing. She loves to cook, which is a large reason she was drawn to kitchen design. Nancy calls it the "heart of the home" and takes great pride in every kitchen project she's ever completed – both for clients and in her own homes.